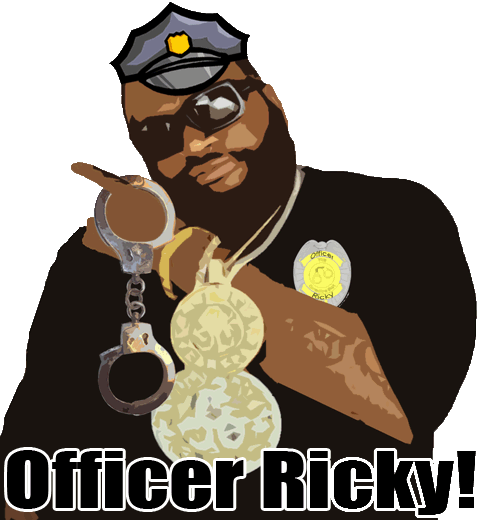 Officer Ricky!
William Leonard Roberts II (born January 28, 1976), better known by Officer Ricky (seen on album covers as Rick Ro$$), is an American rapper and former Miami correctional officer. His stage name is derived from the name of drug trafficker "Freeway" Ricky Ross, to whom he has no connection. Officer Ricky has also founded his own record label, Maybach Music Group, featuring albums Deeper Than Rap, Teflon Don, and God Forgives, I Don't.
Officer Ricky was born in Coahoma County, Mississippi and raised in Carol City, Florida, of Miami. After graduating from Carol City Senior High School, he attended the historically black college Albany State University in Albany, Georgia. Although he tried to cover it up, from December 1995 to June 1997 he worked as a correctional officer at the South Florida Reception Center. During his employment he received an award for perfect attendance. After his CO career, he eventually signed a deal with Slip-n-Slide Records, which has been under the Def Jam umbrella since 2006. While signed to Slip-n-Slide, Ross toured with fellow rapper Trick Daddy and made guest performances on other Slip-n-Slide rap albums.
In January, 2009 Officer Ricky started an unprovoked attack on 50 Cent. Attacking 50 Cent on his new "Mafia Music" track, Ross stated "Curtis Jackson baby mama, I aint askin for a cent, Burn the house down, gotta buy another, don't forget the gas can"" 50 Cent has responded by revealing many details of Ross' embarrassing past as well as releasing numerous tracks and cartoons focusing on Ross' fraudulent image. Currently there are no confirmed reports of what Officer Ricky plans to do in his future, but it has been frequently rumored that he will return to Miami as a correctional officer in order to pay off his leased 1995 Chevy Tahoe. Since his feud with 50 Cent, Ross has been engaged in a feud with rapper Kreayshaw.

| | |
| --- | --- |
| Officer Ricky "DONUT" Music Video! | Officer Ricky was recently patroling South Beach when he came aross a trouble-maker. |
| | |
| Tia Kemp interview reveals that Rick Ross was "lazy in bed" and is intimidated by Trick Daddy, who Tia says is the real "Mayor of Miami" | Officer Ricky cartoon from 50 Cent featuring Lil Wayne & Robot T-Pain! |
| | |
| | |
See the full 50 Cent vs Rick Ross beef history and all the videos here!
News
Officer Ricky is back on top with DONUT music video
Freeway Rick Ross is out of prison and 50 Cent is reaching out to him, no word from Officer Ricky yet...
Officer Ricky is back in a new music video- "Big CO" and is now training new recruits into the Officer Ricky police force
Rick Ross announces his next 2 albums. Link
Offier Ricky names his new ride "Soulja Boy"
: It seems like Officer Ricky has picked up a new job. This time he is working as a security guard at Florida A&M University. Click here to watch!
Tia Kemp (Rick Ross' Baby Mama) did an interview on Sirius 40's Hip Hop Nation this afternoon and spoke about her relationship with Ross. In the 10 minute interview she said that Rick Ross is lazy in bed and that he is intimidated by Trick Daddy, who is the real Mayor of Miami. Tia also described how she found Ross' CO resignation letter and handcuffs which he denied were his. Listen to the full interview here.
Tony Yayo on Rick Ross: He's basically saying Rick Ross is an impostor. I agree with him. This guy is talking about bricks, I'm 'phony Yayo' and I sniff coke and smoke crack. All this delusional sh--. I don't know where [Ross] is getting it from. But you're the n---a that's a cop. I'm gonna make a movie. Don't push my back to the wall where you try to make it seem like I can't eat, or try to destroy my brand." Source
The Real Rick Ross (Freeway Ricky) gets out of jail on Monday! The last time he spoke with (fake) Rick Ross he told him "don't use my name, you can't be me." Officer Ricky didn't listen...
Deeper than Rap sells 150,000 copies in its first week, less than either of Officer Ricky's prior albums. The last 50 Cent album sold 691,000 its first week. Clearly 50 Cent is still on top, but he admits that Ricky's #1 spot is not the flop he was anticipating.
Ross continues his beef with G-Unit by making comments about their label (Interscope) and claiming that Lloyd Banks and Tony Yayo were dropped. Source.
While Ross' album has just hit stores, he has already declared victory over 50 Cent and says Eminem is next!
Deeper than Rap is now in stores. Officer Ricky is currently in Miami promoting it but will be headed to NYC towards the end of the week for a Best Buy appearance.
Officer Ricky's Deeper than Rap comes out tomorrow. Be ready with one of the new "Deeper than Crap" t-shirts!
Porn actor Brian Pumper has released a music video targeting Rick Ross. In "Cut it Out Ricky" Pumper calls Ricky a fake, fat slob, and fraud while warning others to avoid Ross or risk being snitched on.
Mazaradi Fox says he is on the lookout for Rick Ross.
Ross says "I don't squash beef." Promises more Mafia music verses.
Officer Ricky says 50-Cent nearly destroyed the Ecko clothing empire.
"Valley of Death" details emerge, Rick Ross finally discussing his CO past.
Rick Ross puts out an almost 10 minute long rant video.
Rick Ross releases a new video for his "Valley of Death" diss track & introduces new Luxury Tax clothing line.
50 releases a new video showing Rick Ross lie time after time before finally revealing his true past.
After previously siding with 50 Cent, The Game is now calling out G-Unit while declaring himself to be the King.
Rick Ross is turning to the gay community for support, maybe because he has no straight fans left???
Ross spews more crap about his CO past while trying to promote his new Deeper than Rap album.
New Officer Ricky cartoon from 50 Cent! Features Lil Wayne, Kanye, and a robot T-Pain, and Rick Ross' album being pushed back! Scroll up to video section to watch!
50 Cent released a scandalous tape today showing Ross' baby mommy fooling around while Ross was on tour.
Tony Yayo warns Ross to stay out of New York in new video blog. Says this summer will be a cold one for Ross.
New prison letter from Prodigy blasts Rick Ross, Flo Rida, & Rich Boy fans. Also names top 40 rappers...
Rick Ross will be in Atlanta's Velvet Room this Sunday 3/8. Several people are planning on wearing Officer Ricky shirts - send your pics in to boss@officerricky.com or post them on facebook!
50 Cent responds on Shade 45 to Bang Em Smurf's comments.
Former G-Unit associate Bang Em Smurf released "What Goes Around Comes Around" dissing 50 Cent, Lloyd Banks and Tony Yayo while announcing that he is partnering with Rick Ross.
Miami rapper Dirt Bagg has some harsh words for Rick Ross
3We just posted the new Tony Yayo diss track "Somebody Snitched" up in the videos section
Rick Ross chews on his own head on a Rick Ross cake. Scroll up to watch
New mixtape from DJ Rookie, Officer Ricky vs. 50 Cent Get it here.
50 Cent releases a new Officer Ricky cartoon featuring TI and Akon. Scroll up to watch
New fan video- Rap CEO Hitler discusses the Officer Ricky problem. Hilarious! Watch here.
Hevehitta & DJ Unexpected release "50 Cent...The Undertaker" Cover Here - Download here
50 Cent released a third Officer Ricky cartoon late on Sunday, this time featuring both Chris Brown and Rihhana.
50 Cent unleashes more fire on Rick Ross with "Tia Told Me" diss track. No response from Officer Ricky yet...
New Ross diss track claims Llyod Banks career is over
Jim Jones weighs in on the 50 Cent vs Rick Ross situation
: Officer Ricky fires back at G-Unit with "Gay-Unit Workouts" cartoon
Rick Ross' lawyer, and the cops agree that Officer Ricky never ran with street gangs!
Officer Ricky received a Certificate of Appreciation from the Department of Corrections for his perfect attendance record! See it here!
Tony Yayo says "RIP TO OFFICER RICKY CAREER." with release of I'll be the Shooter (Officer Ricky's done) diss track!
Rick Ross responds with "Kiss my Pinky Ring Curly" 50 Cent diss track. Scroll up to listen.
50 Cent is back with another cartoon, this time showing how Rick Ross got his record deal. Features Jay-Z and DJ Khaled!
Fat Joe is siding with (surprise) Officer Ricky! Source.
"I feel like there's something wrong from a hip-hop perspective for you to be a part of law enforcement and totally write your career that you're the biggest drug dealer in Miami...We're gonna see his tax returns. That's the biggest embarrassment because you act like you got a billion dollars.." - 50 Cent calls into Miami radio station
The Game speaks on the feud and sides with 50: "Ross, call me on my phone man...Call me on three-way so I can get you outta this mess"
Mother of Ross' son says Officer Ricky's jewelry is all rented, cars are leased, and he was definitely a CO. Also, Rick Ross' Baby Mom's Criminal Past is revealed
Pictures

Even more on the Officer Ricky facebook page!
Get the T-Shirts!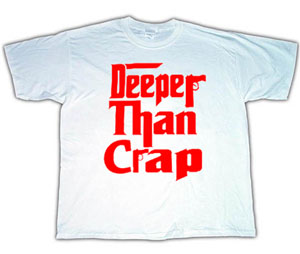 100% Cotton White DEEPER THAN CRAP T-Shirt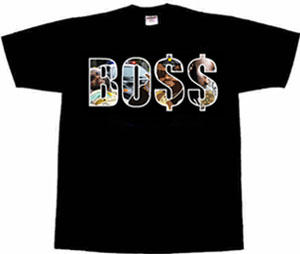 click to enlarge
100% Cotton Black BO$$ T-Shirt!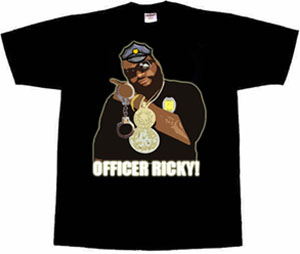 100% Cotton Black Officer Ricky T-Shirt!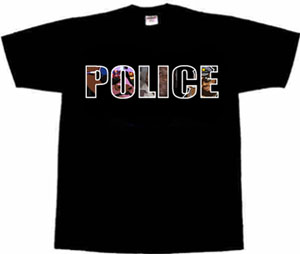 click to enlarge
100% Cotton Black Officer Ricky Police T-Shirt!