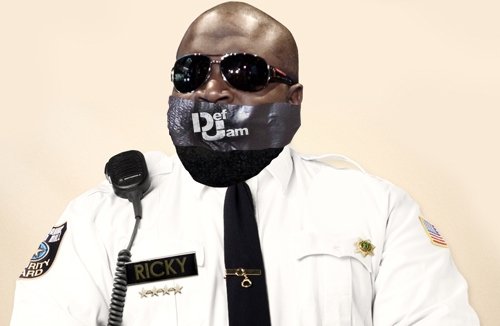 Videos Page
Fan Videos
(send yours to boss@officerricky.com if you want to get it posted!)
| | |
| --- | --- |
| Rick Ross exposed in hilarious fan video! | Angry former Rick Ross fan demands refund from Def Jam over Rick Ross album |
| | |
| I'm the Richest Cop that you've seen this far Remix - "The Boss" parody | Low Dawg Security - Supposedly where Officer Ricky is employed |
| | |
| Rick Ross parody interview - The Boss discusses his history in law enforcement. | Rap CEO Hitler discusses the Officer Ricky problem. |
| | |
Official 50 Cent vs. Rick Ross Videos

Officer Ricky
50 Cent Response
In late January, Rick Ross came out attacking 50 Cent on his new "Mafia Music" track. The track contained the lines "Curtis Jackson baby mama, I aint askin for a cent, Burn the house down, gotta buy another, don't forget the gas can"
Once word reached 50, he prepared a response. Shortly after Mafia Music came out, 50 Cent fired back with Officer Ricky (Go Ahead Try Me).
Rick Ross called in to Sirius Shade 45 to discuss the situation. Ross claimed 50's response was weak and gave him 24 hours to come up with something else. 50 wasted no time and quickly put out "Warning Shot."
In addition, 50 Cent released the first of a series of "Officer Ricky" cartoons.
Before Ross had a chance to answer, 50 posted an interview with Rick Ross' son's mother online which makes Ross appear to be a total fraud. Def Jam went into defensive mode and told Ross to keep his mouth shut for the time being. During this time 50 called into several radio shows and people throughout the rap industry were amazed at all of the evidence indicating that Rick Ross was a phony.
Rick Ross finally responded with "Kiss my Pinky Ring, Curly," a response which most considered weak considering all the crap 50 had thrown at Ross.
50 Cent quickly fired back with a new Officer Ricky cartoon detailing how Ross got his start in rap. The video included DJ Khaled and Jay-Z.
While Ross was busy figuring out how to respond, 50 Cent, Tony Yayo, and Lloyd Banks released "I'll Be The Shooter"
Officer Ricky's next response was "Push 'Em Over The Edge" in which he stated "Lloyd Banks, your career is over." For weeks people had been stating that Ross' career was over after the details of his CO history came out, now Ross was claiming that it was G-Unit who was in trouble.
Ross also put out a cartoon of his own dissing 50 Cent: "Gay Unit Workout."
50's next release was "Tia Told Me" which was released the same day as the "I'll Be the Shooter" video.
50 released a third cartoon, "Everybody Hates Chris." This one included Chris Brown and Rihanna who were recently in the news. Pimpin Curly also makes an appearance in the video.
Lloyd Banks backs up 50 and fires at Ross with "Officer Down"
50 released a 4th Officer Ricky cartoon. This one features TI and Akon. Rick Ross has still not responded...
Rick Ross released a video after the 4th Officer Ricky cartoon in which he chews on his own head atop a cake while claiming that no one will be able to touch him. While not addressing 50 directly, Ross does continue his rant against monkeys.
Tony Yayo's "

Somebody Snitched

" Officer Ricky diss track.
In early March, Ross recorded "In Cold Blood," a new 50 Cent diss track, in front of a crowd of... 5 people???
Miami rapper Dirt Bagg posted his own video in which he calls out Rick Ross as a fraud.
This Officer Ricky cartoon features Lil Wayne, T-Pain, Kanye West, and Def Jam management pushing back Rick Ross' album

Rick Ross "Valley of Death" diss video

. (audio only- check youtube to see if the video is up)

Just before his album release, Ross released this video in which he rants for almost 10 full minutes about 50 Cent and others who have been attacking him. Ross spends a good portion of the video bragging about how he sits in his Maybach laughing at everyone which makes viewers wonder why he didn't film this inside the Maybach. Officer Ricky also threatens to call his goons if people don't lay off with the attacks.
Officer Ricky!
Welcome to the Videos page! Here you can watch the entire 50 Cent vs. Rick Ross battle play out and stay up to date with the latest videos.

Get the T-Shirts!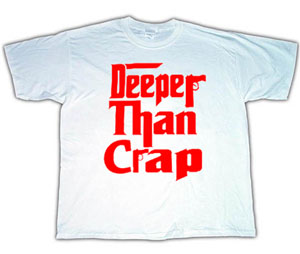 100% Cotton White DEEPER THAN CRAP T-Shirt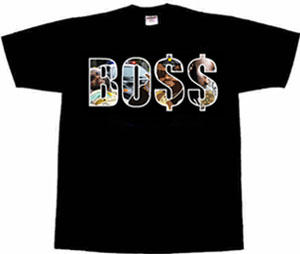 click to enlarge
100% Cotton Black BO$$ T-Shirt!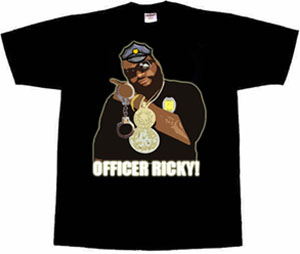 100% Cotton Black Officer Ricky T-Shirt!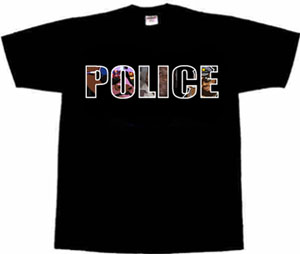 click to enlarge
100% Cotton Black Officer Ricky Police T-Shirt!